Digital Transformation and Innovation Management
Digital means scalable, measurable combined with the option to faster change. Digitisation therefore affects all levels of a companies value chain.
New business models, forms of collaboration, communication with customers and approaches to partnering develop.
This has increased the importance of innovation management for companies in digital & media, but also in other industries.
We can help with running innovation management as a disciplined experiment, leading to measurable results.
Fig 1: Ideal Innovation Management Process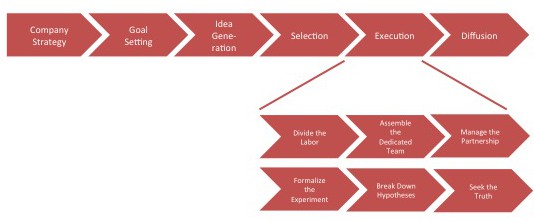 Source: Pagel/Zabel 2015, based on Hansen/Birkinshaw 2011, Govindajaran 2010
Projects:
A research project was carried out focusing on the introduction of online video production into German Newspapers' organisations and workflows (paper presented at EMMA conference in May 2015).*
*joint research project with Prof. Dr. Sven Pagel, University of Applied Sciences, Mainz/Germany.