Online Video and Digital Publishing, Television/Film
Digitisation has put enormous pressure on established media companies, but also opened up new opportunities.
Whereas the traditional TV/Film ecosystem is stagnating, new entrants like Netflix, Amazon, spotify or the MultiChannelNetworks have ushered a high demand for original content. This is further amplified by brands pushing into content marketing.
At the same time, especially young customers flock to new platforms, haemorraghing established distribution channels like TV and film. New producers have sprung up, who push their brands and products across multiple platforms, almost ironically including established (and more lucrative) media channels.
Companies in this area therefore need a new set of competencies, from production (for online/transmedia), interaction and traffic management to concept competence (devising content campaigns for brands, for example). They also need to devise new ways of steering their production processes.
Recent Research/consulting projects include
In 2017, public German Broadcaster Südwestrundfunk (SWR) was supported in developing a multi-media portfolio management. Through an extensive series of in-depth interviews with all the program decision makers, desk and international best practice research and a series of workshops with the different main program divisions, success parameters werde defined and a portfolio management model was developed that allowed the SWR to prioritize numerous digital activities (see figure 1, in German only).
Figure 1: Multimedia Portfolio for German Public Broadcaster SWR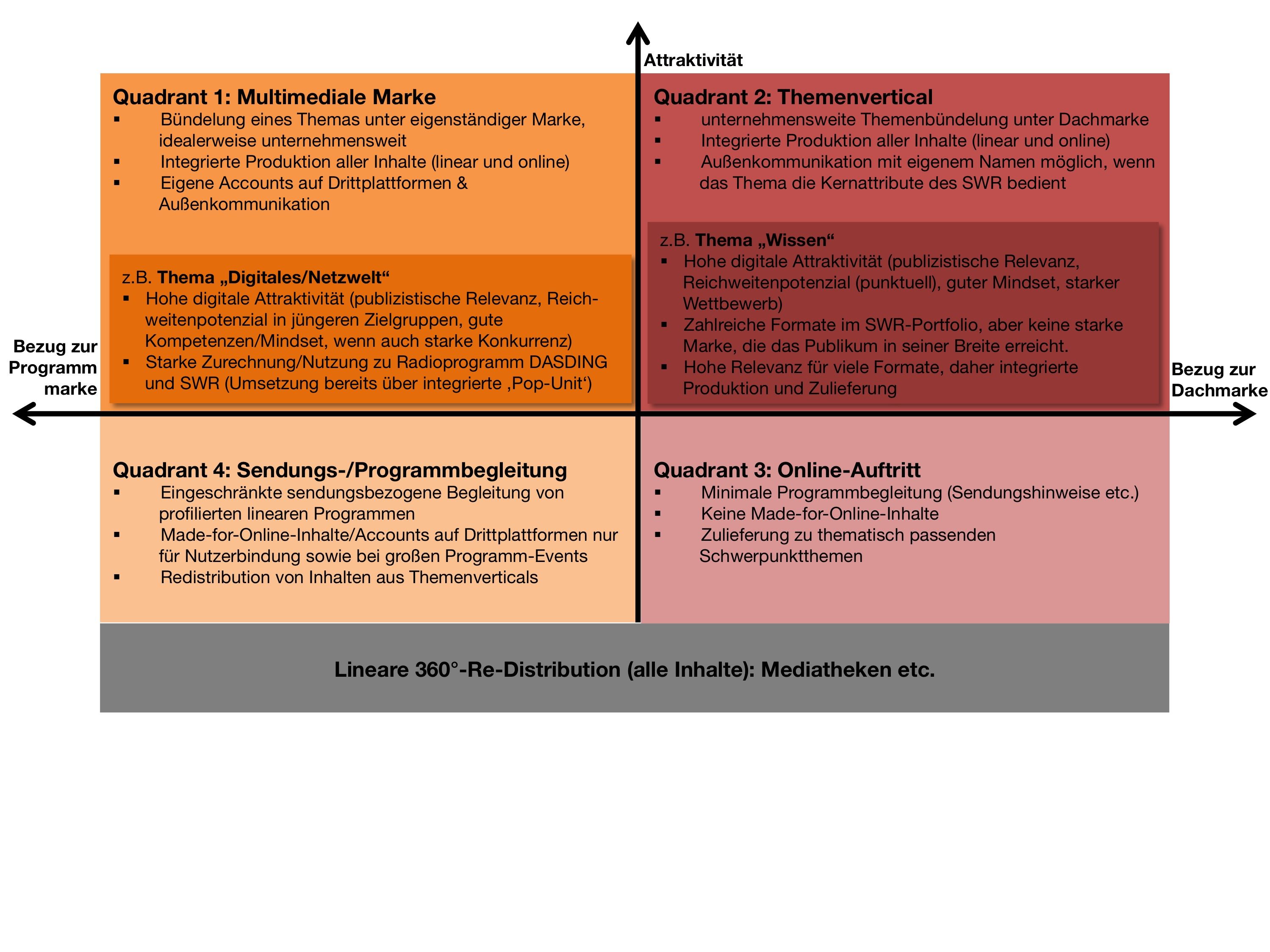 In 2016, Zabel Associates conducted the first comprehensive survey on the new creators of youtube, Facebook and co. on behalf of public film funding authority Film- und Medienstiftung NRW. The research was carried out in close collaboration with Prof. Dr. Sven Pagel, University of Applied Sciences, Mainz and focused on production methods, motives, monetization and distribution strategies of this new creative class. Results were first published during this year's Medienforum.NRW and can be retrieved via the Film and Media Commission NRW on demand.
Prior research projects include "Competitive Strategies and Success Factors of New and Established Content Producers in the German Online Video Market (finished February 2015  and published subsequently in Pagel, Sven (ed.): Schnittstellen (in) der Medienökonomie. Baden-Baden: Nomos, pp.50-72 (in German)).*
* carried out together with Dr. Georg Ramme, Managing Director International Endemol beyond